Programme Overview
ALS Phonics: Letters and Sounds aims to provide a solid and continuous approach to the teaching of systematic synthetic phonics in Nursery, Reception and Key Stage 1. Validated by the Department for Education (DfE) and based on the principles of Letters and Sounds, it offers training, guidance and resources to support schools in the delivery of a successful and complete phonics programme.
Tried and tested teaching sequences and mantras are used daily to ensure children have a clear structure to their learning, developing their ability and confidence to decode successfully and building towards independent readers. These strategies are fully explained in Teachers' Guidance and are demonstrated in a range of modelling videos.
Quality first teaching of phonics is at the heart of ALS Phonics: Letters and Sounds and a comprehensive training programme for teachers and support staff forms part of the packages available.
Progression mapping has been created to help teachers to identify the order in which sounds are taught and how to recognise when learning milestones have been achieved.
Assessment for learning opportunities are suggested as part of lesson planning and an explanation of how and when to carry out summative assessment is included as part of the approach. Resources to accompany assessment are provided as a downloadable resource, with full training of how to apply this is available.
In addition, the ALS Phonics: Letters and Sounds programme helps to implement consistency in teaching phonics across a school and the structured teaching sequence for each phase is of benefit to both children and staff. Children become familiar with the structure and thus develop confidence in the high expectations which are encouraged. As they progress through the phases the teaching sequence remains very similar with slight adaptations to support the stage of learning and sounds being taught. This familiarity means children can concentrate on embedding past learning and meet new learning without having to adjust a new way of teaching as they encounter more sounds – and delivery remains largely the same whether learning face to face or online. Testimonials highlight that teachers really value this structure, knowing what is expected of them and what makes a consistent, high quality learning experience for the children.
If barriers to children's learning are identified, there are a number of intervention strategies and lesson plans which have been created to address the needs of a range of learners. DfE noted the strength of this programme lay in the guidance provided for supporting the lowest 20% of pupils.
Phonics is key to paving the way to becoming a proficient reader but is only one, if not the most crucial, piece of the reading jigsaw. Effective shared and guided reading and writing strategies are also crucial to reinforcing the development of literacy in children. ALS Phonics also offers a comprehensive programme of training to develop practice around early reading and writing. This training aims to complement and build on phonics work in schools and create a consistent approach to this aspect of children's literacy development. For further information on the range of tailored packages available to individual schools and academies, please click here.
A full bank of easy to use guidance and resources are supplied to subscribed schools to explain and support the teaching of each phase, including assessment tools and guidance.
About Ann Smalberger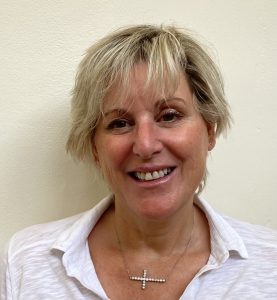 Ann has been a teacher for more than 30 years and continues to teach regularly when working within schools.
Over her career, she has had many roles within schools. These range from Nursery Teacher, to Foundation Stage Advanced Specialist Teacher, SENCo to a Key Stage 1 Lead. More recently, Ann has become an independent consultant working with schools and within schools to train teachers, teaching assistants and school leads to develop their vision of reading.
Ann is extremely passionate about children learning to read. As a child, she did not learn to read fully until the age of 10 and knows how that impacted on her own confidence.
As an Early Reading Development Pilot Consultant and a Communication, Language and Literacy Development Consultant for the London Borough of Tower Hamlets, Ann had the privilege of working with the National Literacy Strategy and Sir Jim Rose on the 'Independent review of teaching of early reading' in 2006 and 'Letters and Sounds: Principles and Practice of High Quality Phonics'.
Based on Letters and Sounds and as a result of many years of experience, working with teachers, and teaching children to read using phonics, Ann has successfully developed her phonics programme, ALS Phonics: Letters and Sounds, and has trained and supported over 90 schools in its effective implementation.
Ann works with schools all over the country, including inner and outer London, Great Yarmouth, Leicester and Slough. She is constantly developing and evaluating her work and the ALS Phonics: Letters and Sounds programme to address the needs of the schools, children and teachers with whom she works, keeping effective practice around the teaching of phonics and early reading at the heart of all she does.